Currently being shown at Assembly Gallery, Houston, TX
July 28 – September 2, 2023
Important: Place holder documentation of the exhibition.
Professional documentation coming soon.
Corn mazes are created by farmers to generate extra income with agritourism. Corn is usually planted in grids in Texas during the summer months for the maze to be ready in the Fall. Corn mazes are seen as light family fun without thinking about the politics of corn and its history. Deals like NAFTA forever changed corn practices in Latin America and contributed to large numbers of people immigrating to the USA.
I've been reflecting on immigration and its comparison to corn mazes. People take a leap of faith hoping for safety and a new place that they can call home. Personally, corn fields have always connected me to El Salvador and the places I have lived in the midwest and Central NY. A corn maze is about trusting your instincts in the journey. Hoping that you're making the right choice and hoping that you'll be safe on the way. The hope is that you not only go in, but you're also able to go back to the start. It's about tracking back your steps. Always being able to go back to where you started. You hear stories of people getting lost in corn mazes. Sometimes the diaspora can feel like that. The way back is not always certain and sometimes families, culture and histories are lost on the way to a promise.
On my research on what people carry on their journey. I kept coming back to the candy that they bring as a quick light source of energy. The candy comes right from the corn, from high fructose corn syrup. A cheap substitute for sugar. A substitute always.
In the center of the corn maze there is a pile of candy. Candy is sometimes used as a reward after a doctor visit, as something enticing and something that provides temporary relief. Each candy have different phrases scripted in them that participants can take with them. The phrases and questions attempt to implicate the viewer on their preconceived ideas about safety and Freedom. The installation is filled with sounds from the Sonoran desert and sounds of machetes cutting the corn to create a pathway.The Corn Stalks were sourced from a local farm in Texas.
This exhibition is possible thanks to grants by The Idea Fund and the University of Houston. The Idea Fund is a re-granting program administered by DiverseWorks in partnership with Aurora Picture Show and Project Row Houses and funded by the Andy Warhol Foundation for the Visual Arts. As well as the studio and research support from Lucy Carranza and Dranat Vazquez.
Excerpt text from Julio Torres-Recinos' poem, Sin Recentiminiento.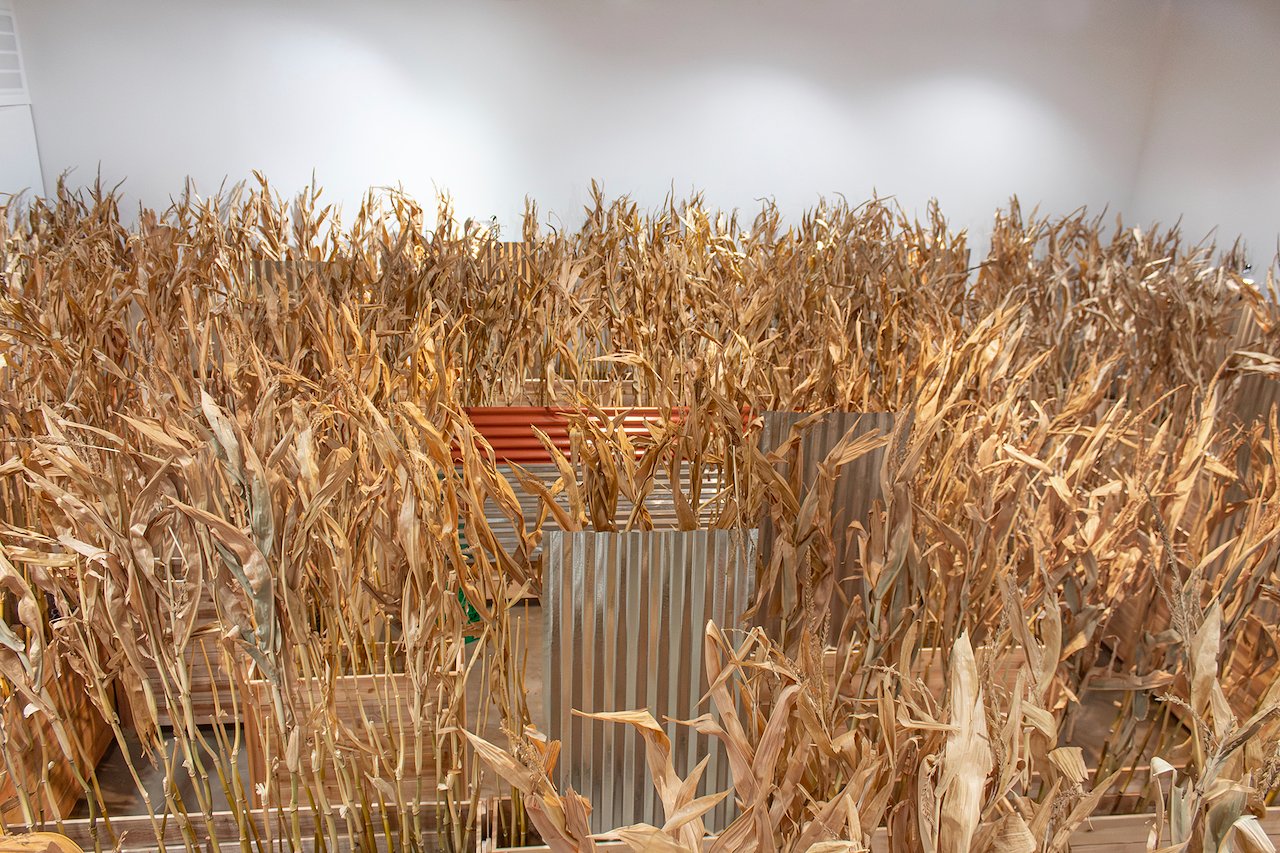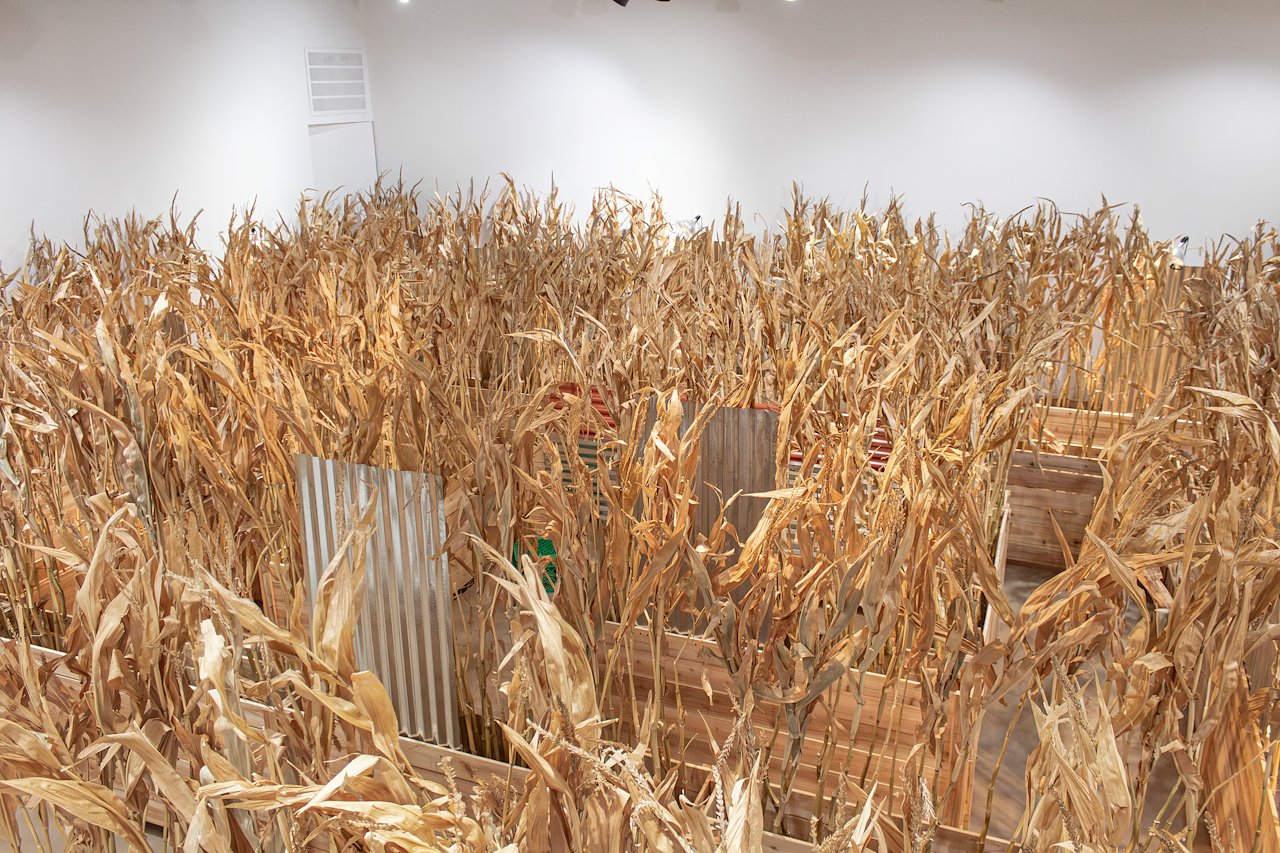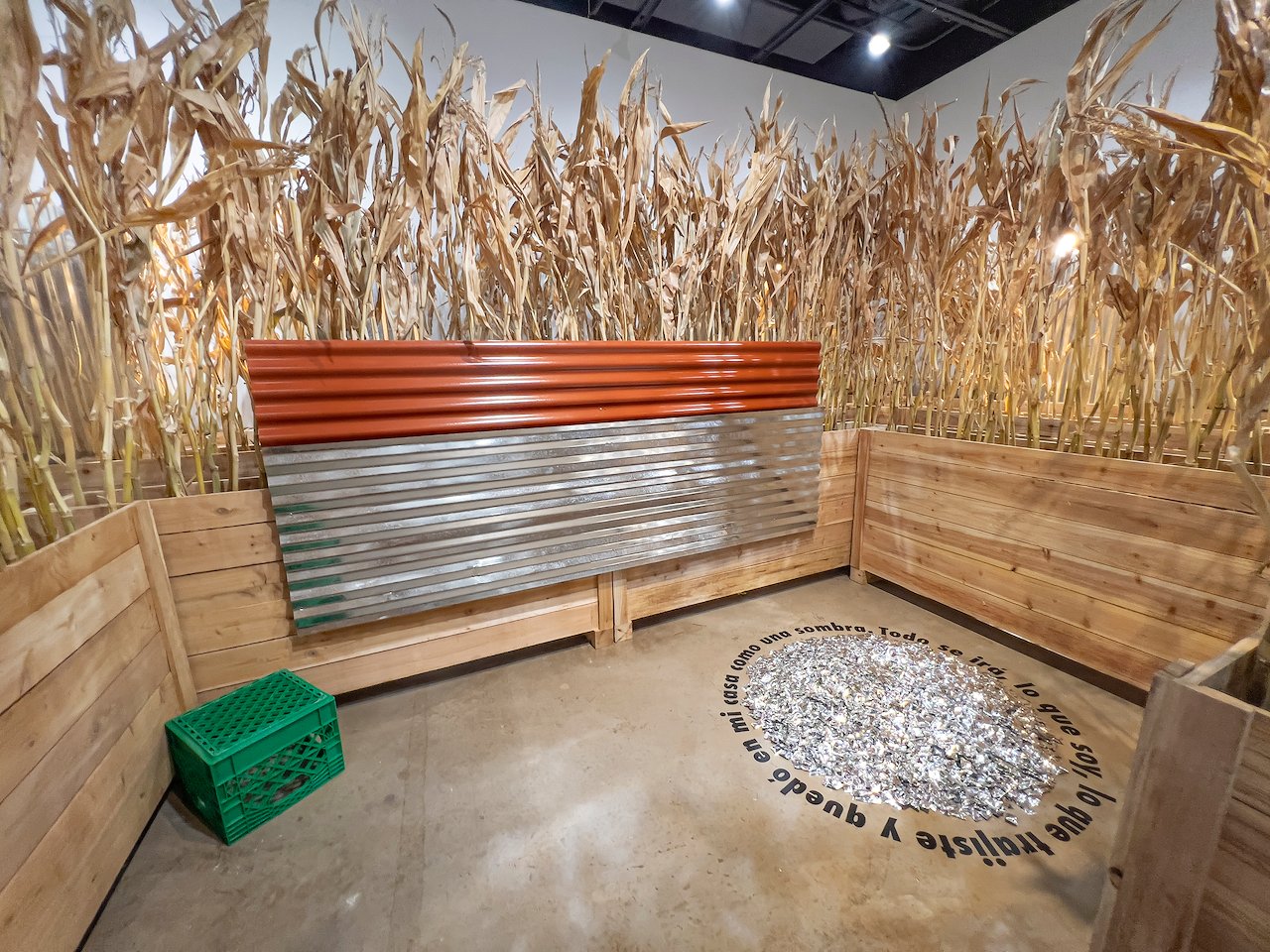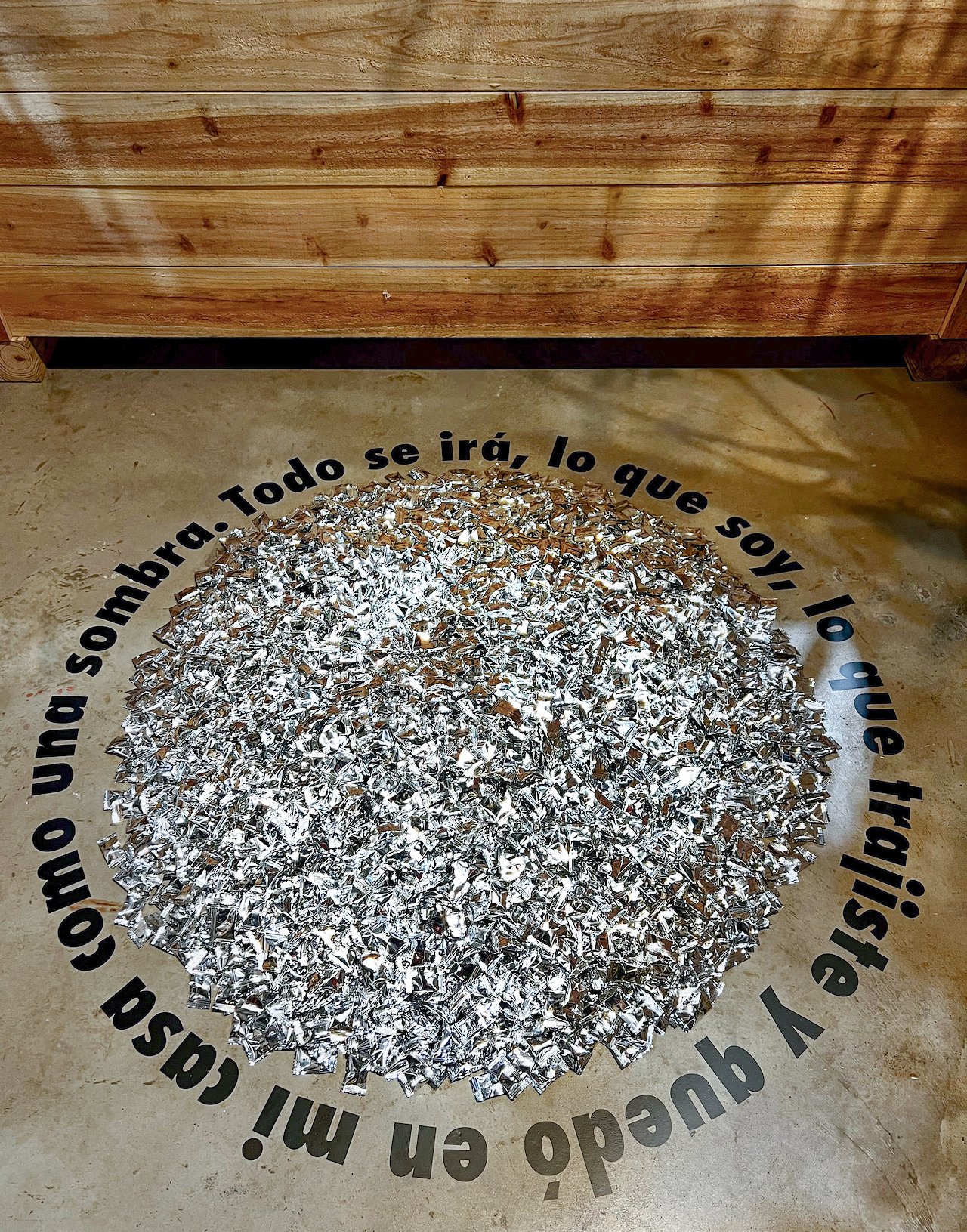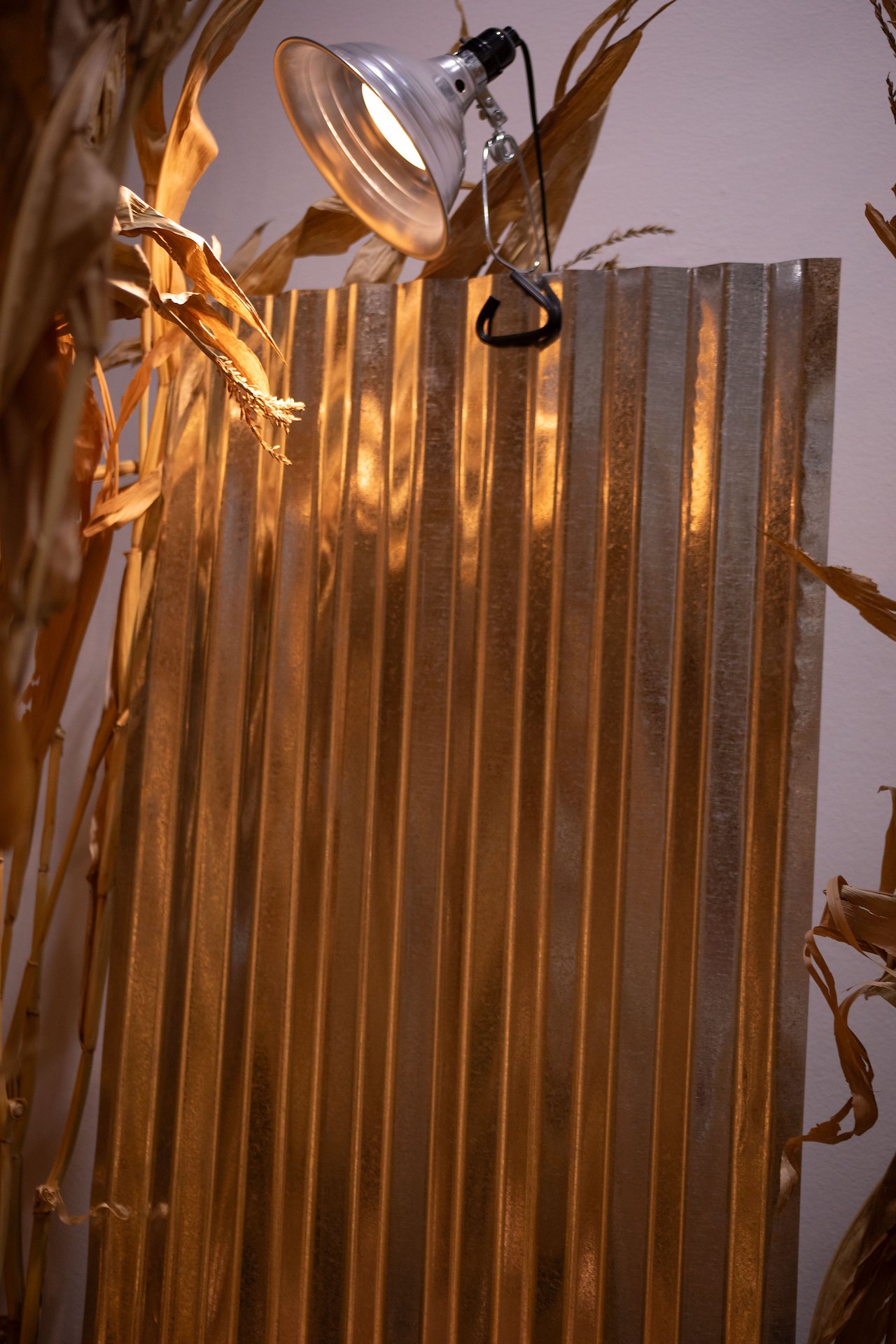 Photograph by Lucy Carranza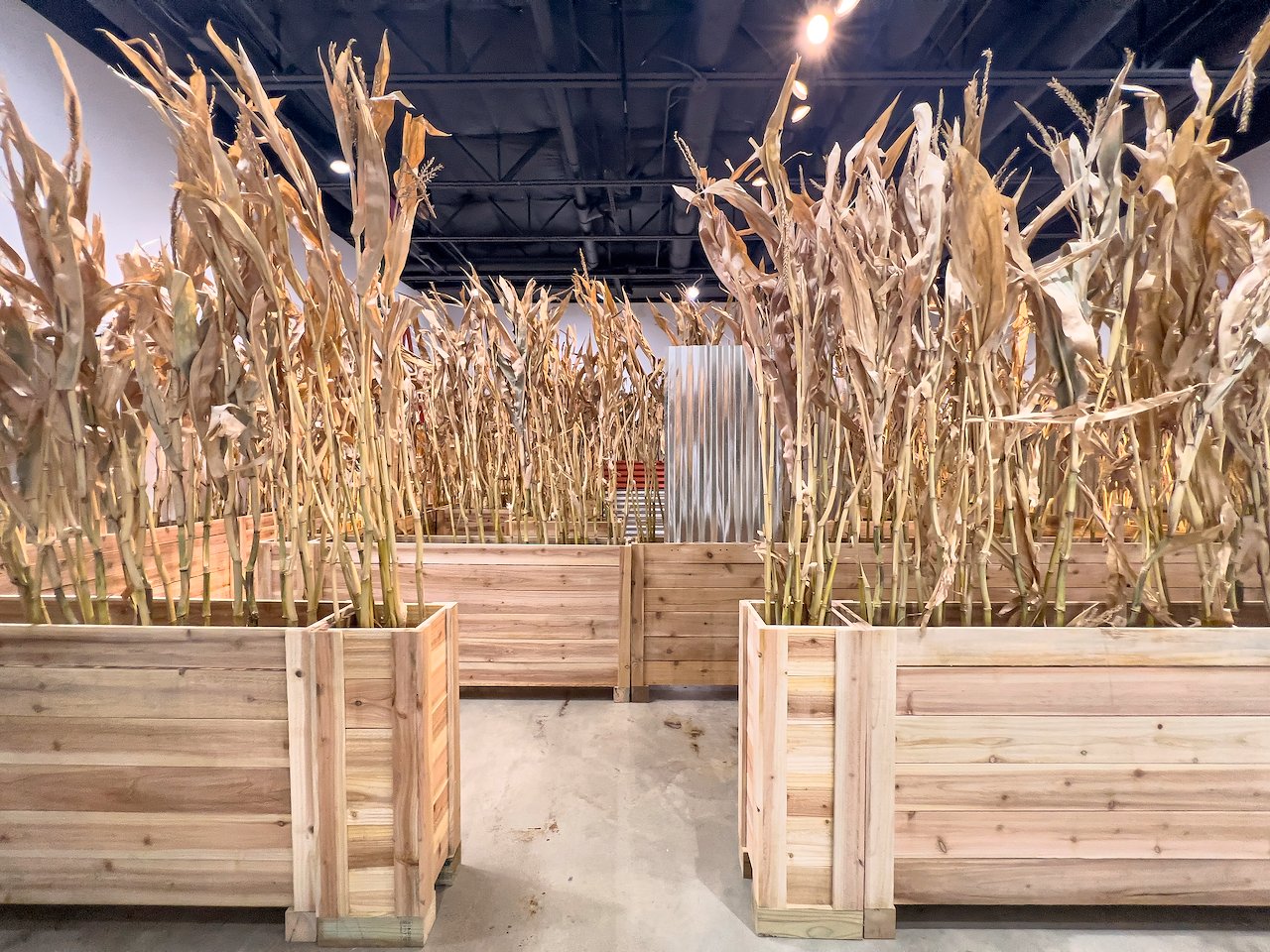 ---
Type Installation, sculpture, sound, text and candy.
Up Next:
At What cost Part I (EXPO Chicago Installation)